Indian Tiffin Box
Origin Of The Tiffin Box
Design & Materials
How A Tiffin Box Is Made

Indian Tiffin Box
At Mytri Designs, each of our Tiffin Boxes are handcrafted and handpainted by expert artisans.
The Indian Tiffin Box has a long and storied history. First appearing in the subcontinent in the late 18th century, the Tiffin Box quickly became a staple of Indian cuisine.

Originally, they were made using jute, cotton, or animal skin, to transport food on long journeys. The problem was, by the time a traveller reached the end of their journey the food would be cold.

So, the steel tiffin came about purely out of necessity to transport food while keeping it at a warm or even cold temperature.
Because the Tiffin Box allowed for easy transport of food, it quickly became a popular lunch option for Indian workers.

Nowadays, the Tiffin Box is a stunning work of art that functions as an easy-to-transport, easy-to-clean, and above all else, incredibly stylish container.
Origin Of The Tiffin Box
The tiffin box has its origins in the ancient Chalukya dynasty and was first popularised in the 18th century by a man called Mahadeo Havaji Bacche. He worked as a banker and came up with the idea in 1890 after wanting home-cooked food in the office.

He later expanded on this idea and started a lunch delivery service in Bombay with around 100 men delivering different lunches in different containers.

Before being known as a tiffin box, the carrier was known as a dabbas, and Dabbawallas were the delivery people.
Mumbai's first dabbawalas started delivering hot meals to office workers who did not have time to go home for lunch.

Essentially predating Uber Eats & Deliveroo by over a century, with much more style too.

The name "Tiffin" actually derived from English colloquialism with the rise of the British Empire in India. The Englishmen couldn't stand the heat and often passed up lunchtime meals, preferring a quick "Tiff" instead. Tiff being English slang for taking a drink. The Tiffin Box remains a popular option in India today, and can be found in many different styles and varieties across the continent.
Design & Materials Of A Tiffin Box
Originally, the first popularised metal tiffins were made using brass. Using brass helped to keep the food inside warm, and unlike other metals such as iron, it didn't add any metallic taste to the food. The heavy brass boxes eventually started to give way to the lighter and cheaper to product stainless steel designs.

An Indian tiffin box nowadays is usually made of stainless steel and has multiple tiers that stack on top of each other. The tiffin box is usually round or square in shape and has a lid that fits snugly on top. The tiffin box has evolved in design and style over the years and has grown in popularity outside of India, with different countries incorporating different designs. The size and shape of a tiffin box vary depending on the region, personal preference and whether it is to be carried on the hand, over the shoulder or on a cycle.

Here at Mytri Designs we work with expert artisans who have been making tiffin boxes using methods passed down through centuries.

All of these tiffins are made from food-grade stainless steel and are finished with handpainted designs using enamel paint with each one as unique as the next. The stainless steel is shaped in such a way depending on the compartments needed. Generally a tiffin box is up to 3 compartments but you can also have a single tier tiffin.
The process of creating a tiffin box involves:
Crafting Stainless Steel:
The stainless steel is made using a mixture of iron ore and chromium and is melted in a furnace for 10-12 hours.

Once removed from the furnace, the stainless steel is cast into it's first shape, which is a slightly round tube shape called a 'bloom'.
Cooling:
Next the stainless steel undergoes a cooling and heating process to relieve the internal stress of the steel.

They are then age hardened under controlled heating to give the steel a stronger finish.
Trimming:
The stainless steel is then trimmed, shaped, and forged and is ready to be passed over for its final step; painting.
Painting By Hand:
Each one of our tiffins are completely hand painted, with each artist using their skills to create a unique design on each one

First the enamel is applied as a base coat and dried to give the steel a protective coating and also a white canvas for the artist to begin painting on.

Then the intricate floral pattern is delicately applied to the enamel coating. This is incredibly time consuming due to the intricate details and colouring involved.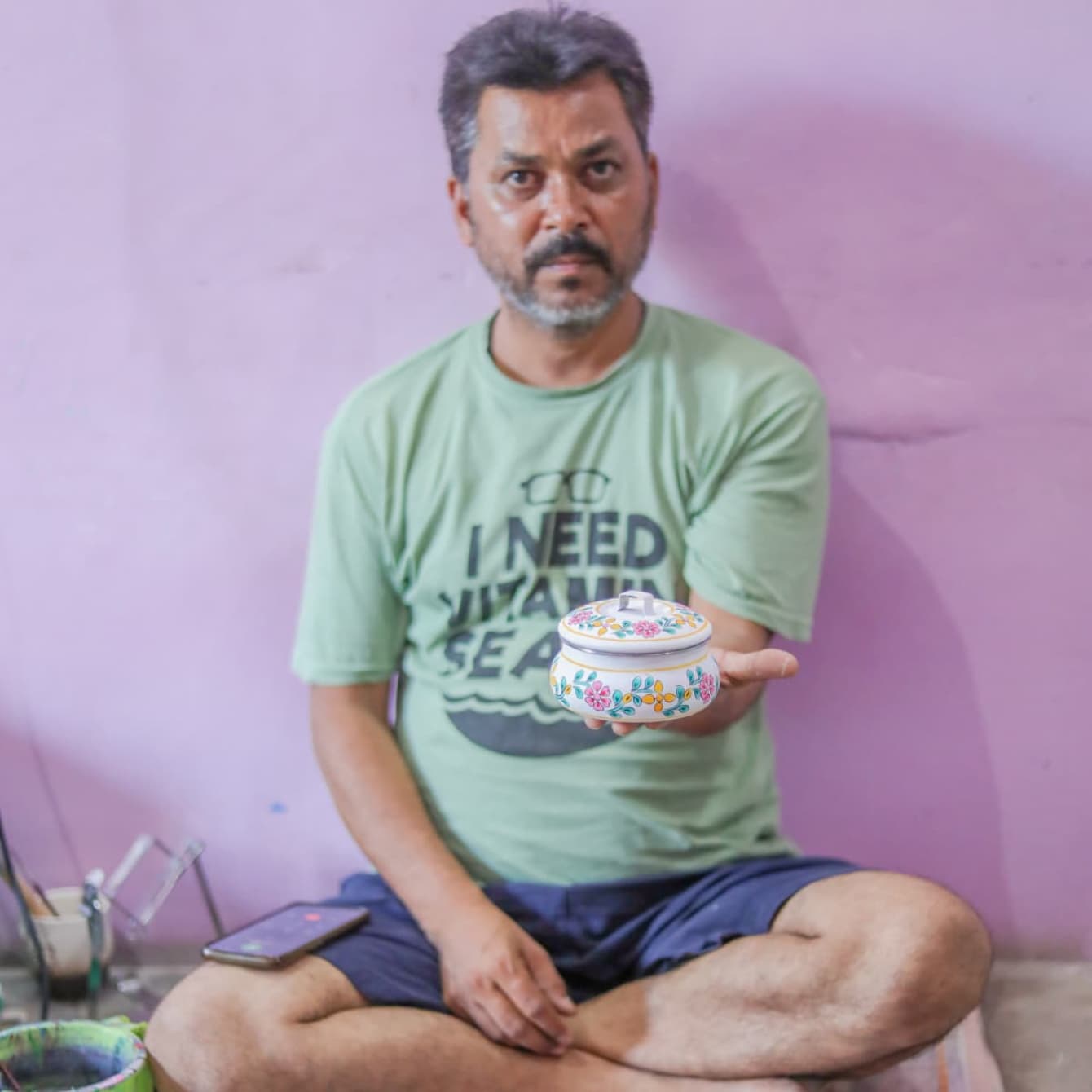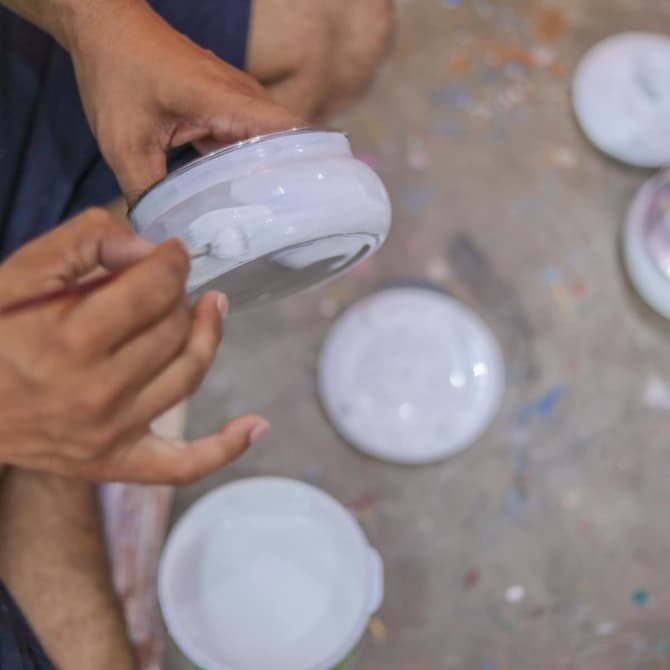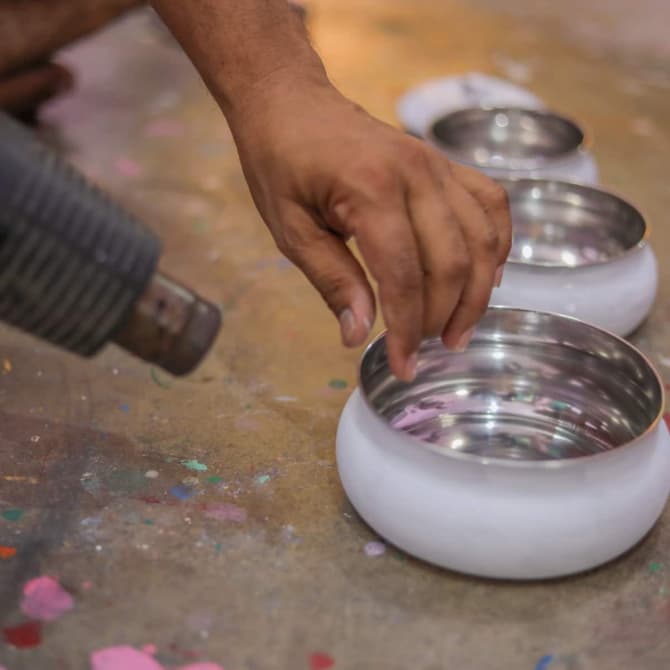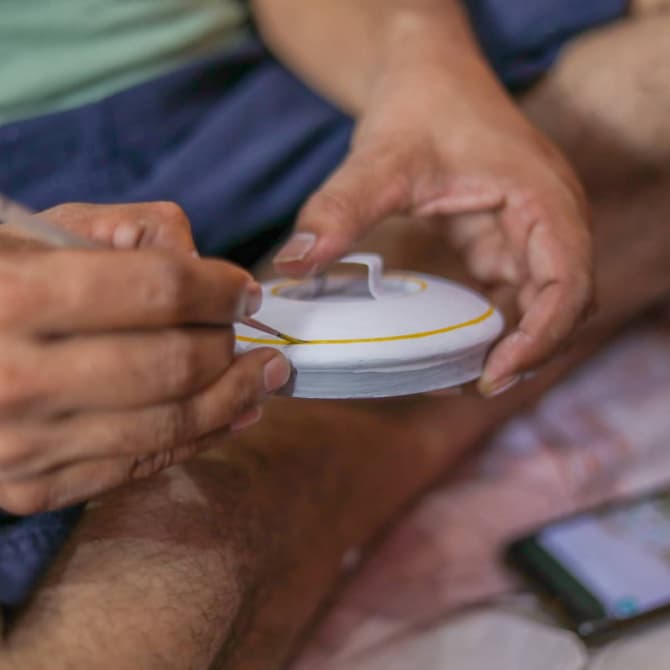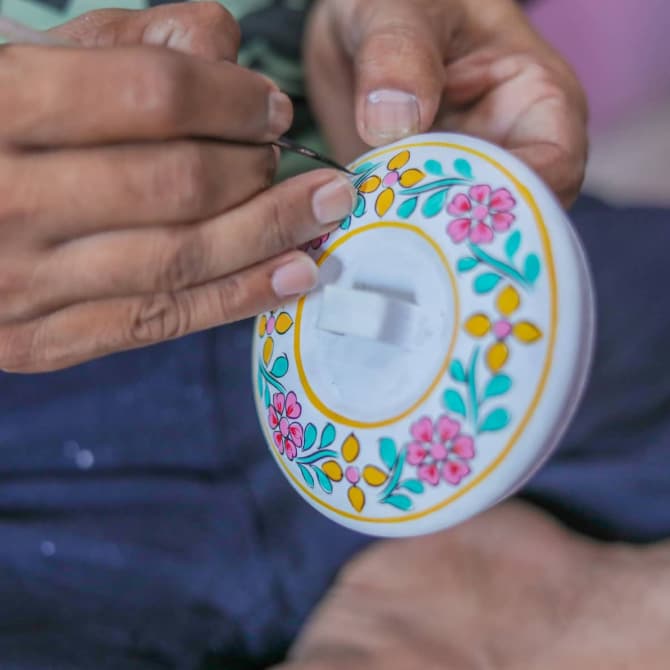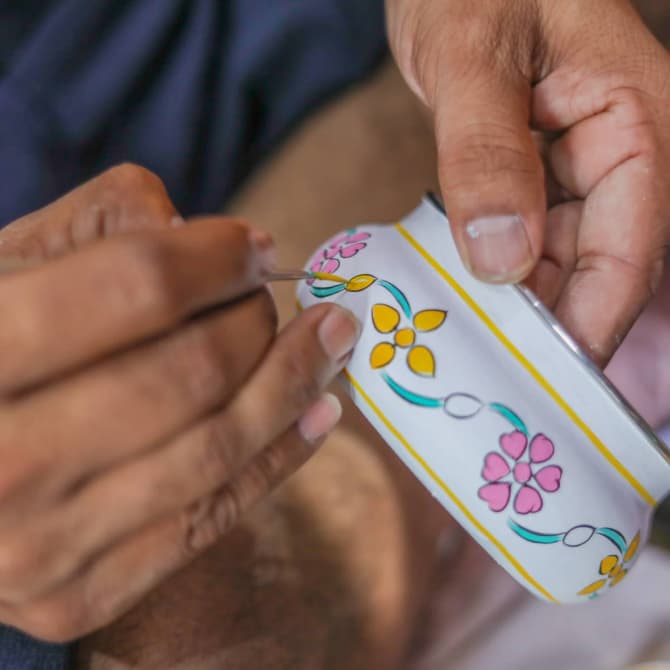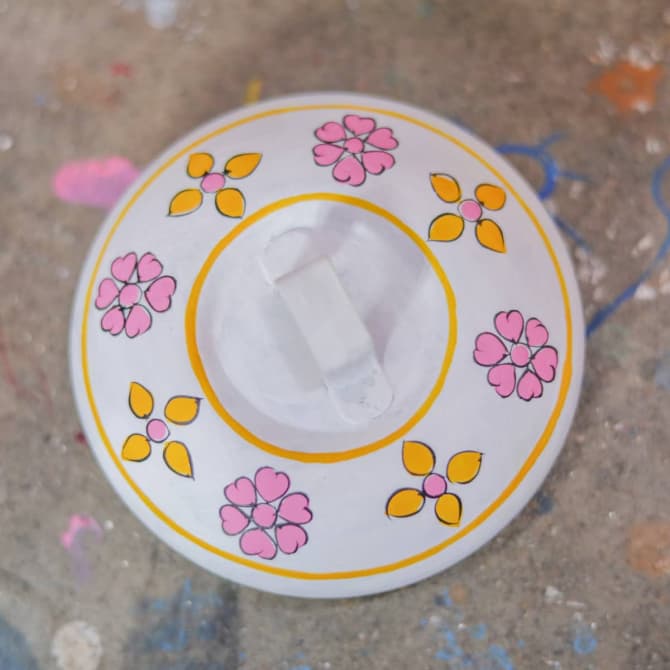 The various compartment design allows you to pack multiple items together, or separate sauces from rice, and pack meats and vegetables separately until they are ready to be used.

Tiffin Boxes are so stylish some just prefer to use them as kitchen decor or spice holders & biscuit containers when you have visitors over for tea.

If you want to see more of our artisan-made tiffin boxes, you can find them on display in our Tiffin Box Collection below.
Explore Other Craft Techniques
Block Printing
Block printing is the process of printing patterns by means of engraved wooden blocks. It is the earliest, simplest and slowest of all methods of textile printing...
FIND OUT MORE
Glass Bauble Making
Let's take a look at the techniques used and equipment needed to create these beautiful pieces of art, and the artisans who have made it their life's work...
FIND OUT MORE
Shop Tiffin Box Collection