Distressed Wood
What Is Distressed Wood
Why We Use Distressed Wood

Distressed Wood
There's something so charming and alluring about distressed furniture.

Maybe it's the fact that it looks like it's been loved and well-used, or maybe it's the way the imperfections add character and charm.

It's appealingly nostalgic and stylish with so much versatility. The real beauty behind distressed wood is that it can complement a variety of home styles, from farmhouse and shabby chic to country, industrial, and modern.

If you're looking to add a touch of distressed wood to your home, there are plenty of ways to do it. From furniture, candle holders, mirrors, to even figurines.

Here at Mytri Designs we work with many talented artisans who specialise in distressed wood techniques. And each artisan works with different designs, so we have a number of collections in stock, each unique and incredible in its design.

So let's take a look at what exactly distressed wood is, and how some of our popular designs are created.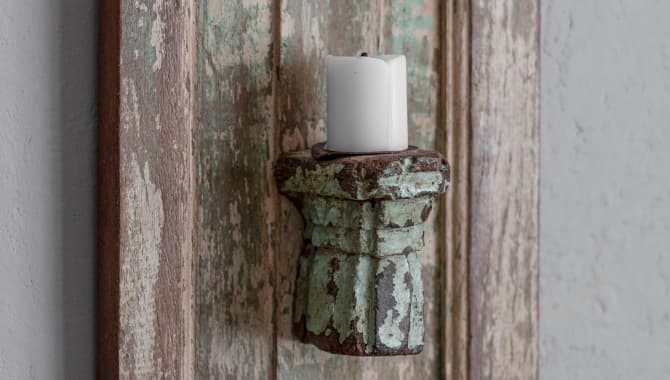 What Does It Mean To Distress Wood?
Distressing wood is the process of ageing or conditioning wood by hand, tools or chemicals to create an aged look without making the wood unusable.

This technique can give designs an antique or rustic aesthetic. Sometimes distressing wood is about making something new look old. This involves using freshly cut wood, and that, for us, is quite unsustainable.

We look at taking something previously discarded, either a damaged product that has been dismantled, an old design unwanted, or maybe just scraps of wood left from other projects. This older wood already has the kind of character needed for a distressed design, and it's just a sensible way of doing things.

Why ruin something new, when you can have a design with history and a story?
We take great pride in our distressed wood designs. Each piece is carefully crafted by hand, using only high quality wood that has been recycled, upcycled, or repurposed. We want each piece to last for generations.

When considering whether or not to distress a piece of wood, it is important to take into account the type of wood and the overall design of the piece.

If the design is styled after furnishings from several decades back, it will probably look natural to distress the piece.

However, if the design is more recent and modern, distressing the piece is likely to look artificial and out of place.

It's a process that takes time and patience, but the results are always worth it.
Why We Use Distressed Wood
Distressed wood can usually be created using "new" wood, however, here at Mytri Designs we used reclaimed wood from recycled or discarded products before we distress the finish.

We do this for sustainability reasons, and we also believe no product should go to waste.
Reclaimed wood is not only beautiful, but it is also a sustainable and eco-friendly option for designers and furniture makers.

This ensures that old-growth trees are not being cut down unnecessarily.

So each distressed item will always have it's own history, and story before we add the finishing touches.

If you are interested in adding some distressed wood designs to your home decor, or just want to be inspired by what is possible, you can see more in our distressed wood collection below.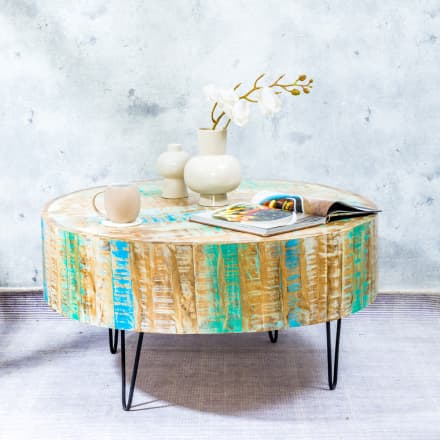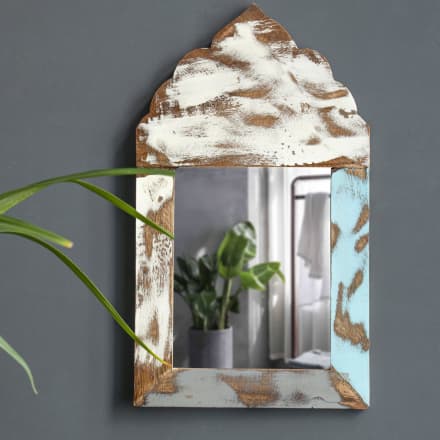 Explore Other Craft Techniques
Block Printing
Block printing is the process of printing patterns by means of engraved wooden blocks. It is the earliest, simplest and slowest of all methods of textile printing...
FIND OUT MORE
Glass Bauble Making
Let's take a look at the techniques used and equipment needed to create these beautiful pieces of art, and the artisans who have made it their life's work...
FIND OUT MORE
Shop Distressed Wood Collection